Countdown to GASO Week 2022!
The Great American Smokeout 2022!
The Great American Smokeout (GASO) takes place every year on the third Thursday in November. This year we are celebrating GASO Week! From November 14th through the 18th, we are recognizing Lancaster County businesses promoting tobacco-free lifestyles!
Are you ready to participate in the 2022 Great American Smokeout? Our Resource Guide has all the information, flyers, emails, social media posts, and other content you need for a successful GASO week!
All resources are FREE to use!
Ready to step it up? Register your organization below and get even more FREE resources!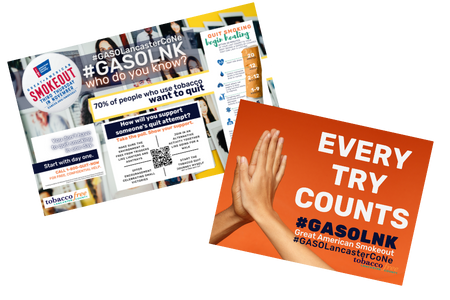 Let's Make It Official
Register your organization and be recognized as a participating business, order yard signs, table displays, stickers, and more!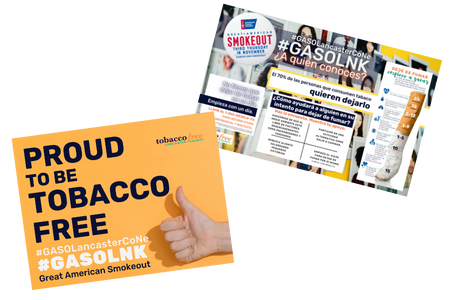 WHO DO YOU KNOW?
Did you know that 70% of people that use tobacco want to quit!
Tobacco use is addictive and quitting can be hard, which is why it's so important to provide support. Take the poll and tell us how you're supporting your quitter!
Get Free Quit Kit!
Are you ready to quit? To get you started, we have FREE quit kits available with mints, gum, fidgets, informational materials and other items to help you on your quit journey.
Take the poll, provide your name and address and we'll send it right to you!