Elevate your quality of Care
Providing a tobacco-free campus is not about policing a policy, but rather about helping people get well and feel their best. TFLC celebrates our health care partners that are committed to a tobacco-free environment and offers FREE technical assistance and resources for those that want to elevate their quality of care by improving their tobacco-free policy.
View our directory of tobacco-free healthcare organizations:
Mental Health and Tobacco Cessation: Creating a Supportive Employee Experience
Mental health is a growing concern for our community, and Tobacco Free Lancaster County (TFLC) wants to help wellness professionals and business leaders. Many people think of tobacco use as a stress reliever, which can make them hesitant to encourage or support someone in a quit attempt. Knowing the right words to say or what to do adds to the challenge.
Watch this 30-minute video sharing the relationship between mental health and tobacco use and tips on how to create a supportive employee experience. The expert panel shares lived experiences and evidence-based advice. Viewers will get an introduction to tobacco cessation, gain practical tips that can be used right away, and learn how Tobacco Free Lancaster County staff can help.
Thank you to our panelists: Jeff Soukup, Tobacco Free Nebraska; Sam Dolezal, UBT; Kristin Walstad, CenterPointe; Karen Rehm, Nebraska Safety Council/Workwell
Free Materials for Patients and Facilities
TFLC offers materials and resources to support tobacco-free health care campuses in our community. A comprehensive toolkit can help get your organization started with implementing or improving your policy, cessation resources for those ready to quit, educational materials sharing the benefits of a tobacco-free campus help support the policy, and TFLC will even conduct a litter surveillance before and after implementation of your policy to help see environmental benefits.
View Toolkit
Great American Smokeout Celebration
#GASOLNK #GASOLancasterCoNe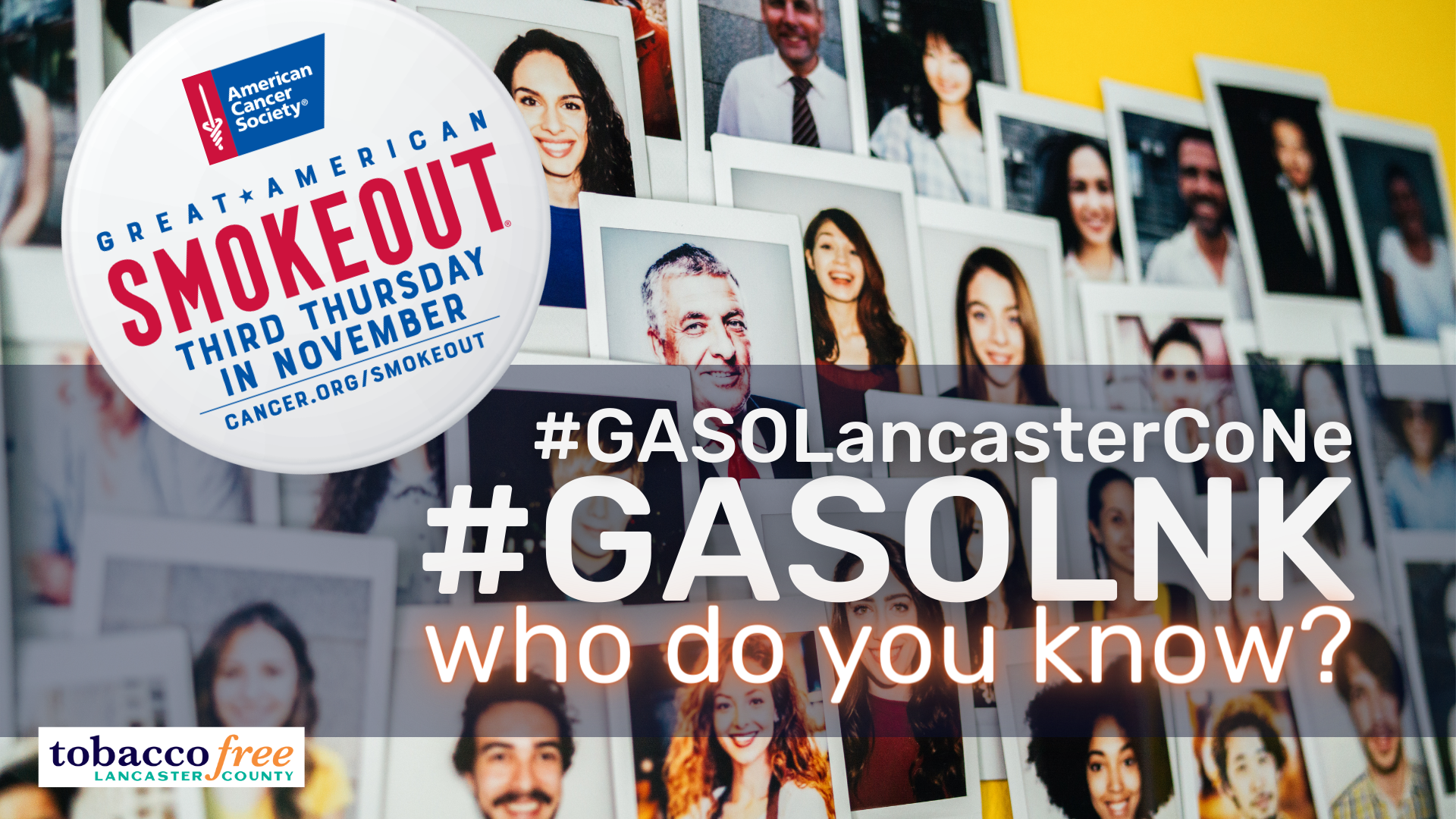 Each year on the third Thursday of November, the American Cancer Society hosts the Great American Smokeout to encourage those who use tobacco products to quit. TFLC has used this inspirational holiday as an opportunity to create community-wide support by providing FREE materials, digital resources, and more. Please contact us if you are interested in participating in this year's event.