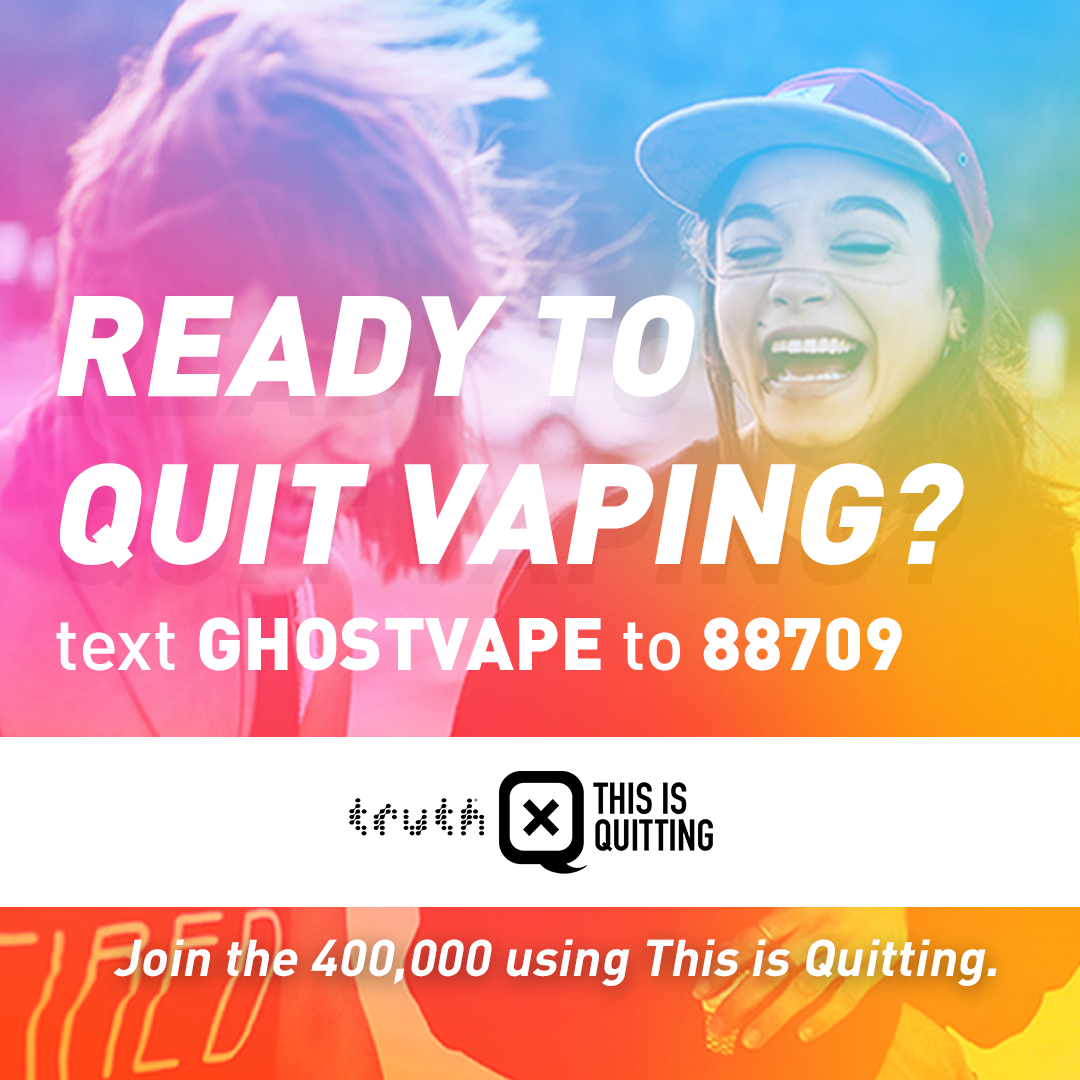 With youth e-cigarette use remaining at epidemic proportions and threatening to addict a new generation to nicotine, Tobacco Free Lancaster County has partnered with Truth Initiative to offer This is Quitting–the first-of-its-kind, free and anonymous text message quit vaping program with over 400,000 enrolled to date. Launched in January 2019, This is Quitting is designed for teens and young adults looking to quit e-cigarettes. The program provides them with tailored advice, cognitive and behavioral coping strategies, and social support to help them quit. Results from a recent clinical trial published by JAMA Internal Medicine demonstrate the effectiveness of the program and found that This is Quitting increased quit rates among young adult vapers aged 18-24 by nearly 40% compared to a control group.
Data from the 2020 National Youth Tobacco Survey (NYTS) show nearly 20% of high school students, one in five, use e-cigarettes, demonstrating that much more needs to be done to address the youth e-cigarette epidemic. A separate Truth Initiative report found that 60% of the young e-cigarette users surveyed, aged 15-24, want to quit within the year. Of those who want to quit, more than half (51.2%) agreed that texting would help them stop vaping, underscoring the urgent need for programs like This is Quitting.
This is Quitting is also an integral part of the truth® campaign, Truth Initiative's proven-effective national youth smoking, vaping, and nicotine public education campaign. Young people in Lancaster County who are looking to quit vaping can enroll in This is Quitting by texting GHOSTVAPE to 88709.
"TFLC has partnered with Lincoln Public Schools to develop engaging messaging about this great resource to share where youth are daily: school, recreation centers, and community organizations," says Sophia Yelkin, Health Educator at Lincoln-Lancaster County Health Department.
"This is Quitting is meeting a need for hundreds of thousands of young people through a channel they're comfortable with and use every day," said Dr. Amanda Graham, Chief of Innovations at Truth Initiative. "Many young people now want to quit more than ever, and This is Quitting can help them get support quickly, discreetly and anonymously, wherever they are."
Through its digital quit-smoking programs This is Quitting, BecomeAnEX, and the EX® Program, Truth Initiative has a long history of innovation around developing engaging and effective quit programs and has helped more than a million tobacco users on their journey to quit. Parents of young people who vape can get support at https://www.BecomeAnEX.org/ or by texting QUIT to (202) 899-7550. Employers, health systems and health plans can learn more about the EX Program, a quit-smoking and vaping service for employers at www.theexprogram.com.
For more information about the program or to request materials contact Tobacco Free Lancaster County at info@tobaccofreelancastercounty.org or (402) 441-8045.