Countdown to GASO Week 2023!
The Great American Smokeout 2023!!
For over four decades, the Great American Smokeout (GASO) has stood as more than just an annual event—it's a defining moment. On this day, countless individuals take their first step on a path toward a healthier, tobacco-free life. Developed by the American Cancer Society and observed nationwide on the third Thursday of November, GASO marks an opportunity for those battling nicotine addiction to experience all the support and resources available to help them leave tobacco behind for good. 
Mark Your Calendars!
Join us from November 13th to the 17th for a week-long celebration packed with FREE resources and materials! This November, we invite every business and organization in Lancaster County to unite in support of a healthier, tobacco-free community. Together, we can empower those battling nicotine addiction, reassuring them that we stand with them on their journey to a tobacco-free life.
Thanks to the Tobacco Free Lancaster County Coalition, all the resources you need are available in a few simple clicks! Whether you're a business owner, a Wellness or HR professional, or just someone looking to spread the word, we have something for everyone!
and, all these resources are 100% FREE to use!
Need materials in Spanish? We have them available! ¿Necesita materiales en español?¡Los tenemos disponibles!
**Please contact us for other language needs and we will do our best to accommodate – sjjensen@lincoln.ne.gov**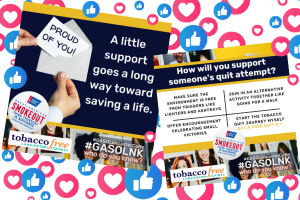 Digital Materials
Access materials like email templates, a newsletter article, and a week's worth of social media content!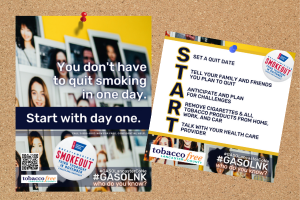 Print Materials (Closed for 2023)
Prefer to spread the word in print? We have flyers, table displays, and more. Print your own or get them delivered!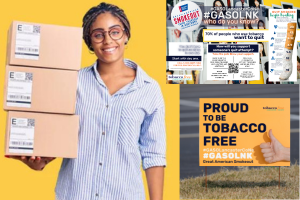 Company Kit (Closed for 2023)
Order a company kit and customize it with additional materials if needed! The kit comes with a base set of items, but you can always add more. Plus, throw in some surprise bonuses to make your GASO week truly unforgettable!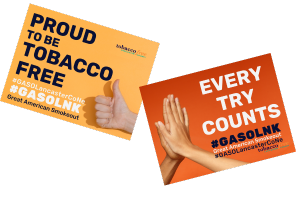 Yard Signs
For a healthier, tobacco-free community, order your GASO yard sign to show your support for those trying to quit.
***CLOSED for 2023 deliveries!***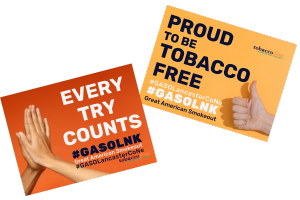 Share your Quit Story!
Wherever you are in your tobacco quit journey, sharing your story can boost your motivation and inspire others! Remember, you're not alone. There's support everywhere. Who knows — your experience might be the push someone else needs to try quitting tobacco! 
WHO DO YOU KNOW?
Did you know that 70% of people who use tobacco want to quit?
Tobacco use is addictive, and quitting can be hard, which is why it's so important to provide support. Take the poll and tell us how you support those trying to quit. 
Get A Free Quit Kit!
Are you ready to quit? To get you started, we have FREE quit kits available with mints, gum, stress ball, informational materials and other items to help you on your quit journey.
Take the poll, provide your name and address and we'll send it right to you!